You are here:

How to get a cruise ship job
How to get a cruise ship job
Working on a cruise ship is a unique and life-changing experience. If you like to travel then it could be an ideal opportunity for you as you visit new locations all around the world, meet people and make new friends - all whilst getting paid and enhancing your resume.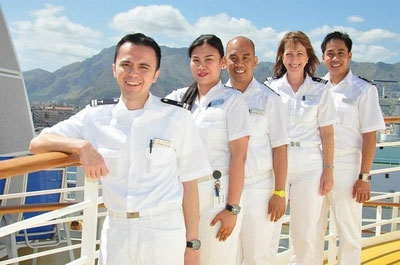 So what is the best way to get a job on a cruise ship?
Research
First of all, do your research. Find out as much as you can about working on cruise ships and the different cruise lines by visiting their websites and listening to/reading about employees in different positions and what life is really like on board. Would you be prepared to be away from home for long periods of time, living and working in close quarters with your fellow staff or crew mates? It is not for everyone so research as much as you can before you start to apply.
Experience
Make sure you have the right experience and qualifications for the positions that you are interested in applying for. Update your resume to demonstrate your suitability for the job.
Recruiters have only a few seconds to look at your resume so make sure you prepare a clear, brief, informative and well styled resume. If it is difficult to read or find out about you, they simply will not bother. There are thousands of other resumes waiting for their attention.
You cannot be a good Hotel Manager, Cook, Captain and Nurse at the same time so be realistic about what you are experienced in and keep your applications focused. For example:
if you have some experience in catering, apply for relevant positions within the Food and Beverages department;
do not apply for senior positions if you have no or little previous experience; and
do not apply for jobs which require qualifications you don't hold – you will be wasting your time and the recruiter's time.
If you need help or advice updating your resume, read more about the professional resume writing service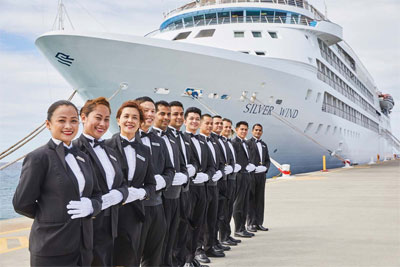 Requirements
Make sure you have other relevant elements required for working on a cruise ship.
Apply
Once your resume is ready there are several ways to look for a job on a ship:
You can apply directly to a cruise line on their website or to their official hiring partners throughout the world.
You can apply through a concessionaire - a company contracted to operate spa, retail, photography or entertainment on the ship.
You can apply online via a dedicated job board such as All Cruise Jobs. As well as uploading your resume to All Cruise Jobs, be proactive and search and apply for relevant jobs on the site. Sign up for regular job alerts (jobs by email) to find out about new job vacancies.
You can attend a Cruise Job Fair – this is the ultimate networking platform to meet face to face with many leading recruiters in person, hand out your resume and discuss job opportunities and your experience.
More advice
Find more advice and useful articles on finding work on the Cruise Job Guide website.
If you require bespoke advice, consider signing up with Cruise Job Help (paid service). Their cruise career consultants will assess your situation and recommend steps to take to get hired.