You are here:

Job interview advice
Job Interview Advice
The cruise ship industry is a competitive one and, although there are lots of job opportunities out there, there are also multiple candidates for each position. If you have been successful at application stage and have been invited for an interview to work on a cruise ship, then you are halfway to landing your dream job!
Getting invited to an interview for a cruise ship position is a positive sign that the recruiter thinks that you have the relevant skills and experience required for the position. But the interview is much more than just being able to perform the duties of the job. That is just the minimum requirement.
Read our top tips on improving your chances of getting the job...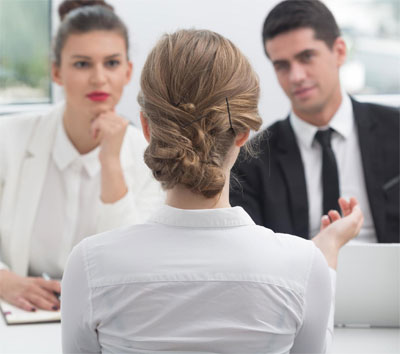 Research and Planning
Making an effort to plan:
interview answers
clothing
documents, and
questions to ask
before the interview is one of the best ways to drastically improve your chances of getting hired.
Interview Answers
Firstly, a good way to set yourself apart from other candidates is to understand how working on cruise ships is different from working in the same position on land.
The recruiter will be trying to evaluate whether you are suited for the unique environment of working on a cruise ship. Cruise lines are looking for the right attitude and personality in their staff members. These things are crucial to being successful. With long working hours on cruise ships, the recruiter will want to feel confident that you'll be just as happy and energetic at seven in the evening as you were at seven in the morning!
You must be able to demonstrate that life at sea will suit you. You will need to show that you can be a real team player and get on with your colleagues – as you will be living, working and socialising together for long periods of time.
Many of the questions you are likely to be asked during the interview will be trying to reveal whether you have the energy, reliability and personality to work on board as a team player.
Prior to your interview then, as part of your planning, take some time to come up with some specific examples of when you have successfully dealt with challenges such as:
Living in shared accommodation
Working long hours for weeks at a time
Being away from friends or family for a long period
Working or interacting with people from different cultures or nationalities
Going above and beyond to solve a problem for a customer
Other questions to expect
Cruise lines want to hire candidates who'll thrive despite long working hours with few days off for months at a time.
Even though you may have excellent land-based experience and an impressive resume and cover letter, your interview answers must convince the interviewer that you will also be successful living and working at sea.
You should do your research and be ready to answer questions such as:
What do you know about the cruise industry?
Why do you want to work for our company?
How do you feel about being away for months at a time?
Are you willing to share a cabin with a co-worker?
Will you be able to work seven days a week with no time off for four to seven months?
Clothing
The way you dress and present yourself at interview (whether this is in person or over Skype) makes a huge impression on the recruiters who will be interviewing you. Cruise Lines are looking for presentable people who will be able to give a positive impression which reflects the company ethos to their guests on board.
Most cruise companies have strict dress codes and regulations that apply to clothing, hair, make up, tattoos and piercings. For an interview you should plan to dress conservatively and smartly.
The most important aspect of your appearance is your demeanour. Guests and recruiters alike will want to see happy, smiling employees who are radiating positive energy – so be sure to make lots of eye contact and smile. You will look and feel more confident and make a fantastic first impression!
Documents
Make sure you plan ahead and print out any required documents or certificates for the interview. If they decide to hire you on the day, they will require certain documents - and you'll appear more organised if you already have them ready with you.
For example, if the recruiter has your documents but needs to wait for other candidates to send theirs after the interview, your application could go straight to the front of the line for the job.
Print two copies of your resume and cover letter to bring with you. Also, make sure to bring a pen with you to complete any required paperwork.
It's possible that you'll be asked to start your new job on short notice. Bring your passport along with you – you need a valid passport with at least one year left before it expires.
Depending on the job you are being interviewed for, you should also bring a headshot photo of yourself, DVD or portfolio, and two or three letters of reference.
Carry your paperwork in a portfolio case or a folder and ensure that all of your documents appear tidy and organised. Attention to small details like this will all help to impress the recruiter.
Questions to ask
Towards the end of an interview you should be given the opportunity to ask the recruiters some questions – this will help to show that you are interested and enthusiastic about the job opportunity and the cruise ship company, so always be prepared.
Attitude is everything in a cruise ship job interview and the more you can demonstrate keenness and energy, the better your chances of getting a job offer.
Some good examples of questions to ask would be:
How soon does the position start?
What type of training is provided?
Are there possibilities for promotion?
What are the duties of the position?
Who will I be reporting to?
What type of uniform is required?
How would you suggest preparing for the job if I am hired?
Practice
It is of course normal to feel nervous and anxious before any interview. One of the best ways to overcome such nerves and to boost your confidence is to practice. Ask a friend or family member to help you with one or two practice interviews. Ask them if they can give you any feedback to improve your performance.
You could also record your answers to see how you come across and how you could improve.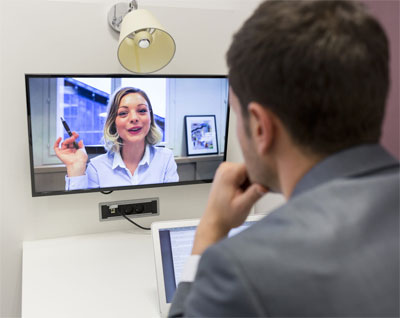 Skype Interviews
With technology playing such a big part in our lives now, many interviews for cruise ship jobs are actually done over Skype.
Skype allows companies to optimise their employees' time, save money and reach candidates from all over the world. Skype interviews should be treated exactly like a face-to-face interview so do the same preparation that you would for an in person interview.
Telephone interviews are also frequently used, but normally for a quick first screening of a candidate to check that they are suitable for the next step – which would be an actual interview.
Recruitment Days
Many cruise lines, concessionaires and recruitment agents organise specific recruitment interview days. Selected candidates will be invited to attend such days and they will usually take place in a hotel or on board a docked cruise ship.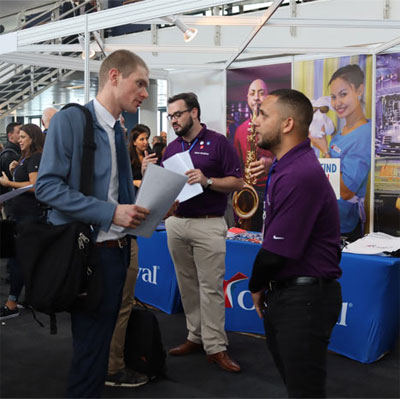 Cruise Job Fairs
Attending a Cruise Job Fair is another way of meeting the recruiters in person. These recruitments events take place throughout the year at various locations around the world and provide the ultimate networking platform for candidates and recruiters alike.
They should be considered as a 'pre-interview' as they offer candidates a unique opportunity to meet the recruiters face-to-face with a limited time to introduce themselves, talk about their experience and ask questions. It is an ideal time to grab a recruiter's attention and the same rules apply in terms of appearance, demeanour, looking organised and professional, etc.
Those that stand out from the crowd will be invited to attend an interview, possibly during the event itself in a breakout area with one of the recruitment team, or on another pre-arranged date.
Working on a cruise ship is a fantastic opportunity to see and travel the world whilst gaining valuable experience for your career and resume. By taking the time to prepare thoroughly for your job interview, you will feel more confident and impress the interviewer, and hopefully be offered a contract at sea.