You are here:

Types of jobs on board cruise ships
Types of jobs on board cruise ships
There are thousands of employees on every cruise ship (made up of more than 50 nationalities) working in different sectors to make each cruise sail smoothly and successfully.
Jobs on a cruise ship are mainly divided into two categories: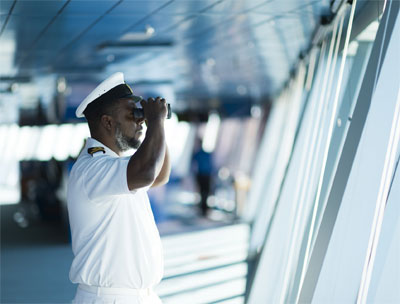 1) Crew
Employees in the marine operations division do everything required to keep the ship functioning perfectly. This is known as the Deck and Engineering Department and its crew are in charge of keeping the ship well maintained, on course and running smoothly, whilst ensuring the health and safety of everyone on board the ship, keeping detailed records, and being knowledgeable of maritime laws and regulations.
While the Captain is very visible, there are also many additional crew members behind the scenes each with important duties. For most of these positions you'll need to have some experience on-board a ship as well as specialised training. However, there are some internships and/or apprenticeship programs that can launch your career in this department.
Deck positions include Able Seaman, Bosun, Carpenter, Chief Officer, First Officer, Security Officer and more.
Engineering positions include Assistant Engineer, Chief Engineer, Chief Electrician, Motorman, Plumber and more.
2) Staff
The rest of the employees on a cruise ship all form part of the overall guest service operations. This is made up of various departments:
Activity and Shipboard Entertainment
Keeping guests entertained on board is crucial to the success of any cruise. A wide range of events are arranged on each cruise ship to keep the guests happy, amused, busy nd entertained.
Cruise Staff make a dramatic impact on each guest's cruise experience. Activity leaders or instructors work with passengers in small groups, leading them in specific activities - from diving to dancing to yoga to golf to trivia games – the list is endless.
Entertainers provide music (either playing it or as a disc jockey), sing, act, dance, juggle, etc, poolside or in the ship's many clubs, casinos and stages. Cruise Directors are responsible for overseeing all of these areas and ensuring that passengers are participating and enjoying each experience.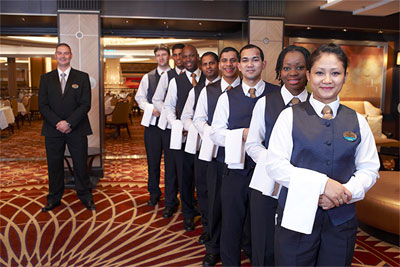 Service and Hospitality
These positions are also called 'hotel management' jobs and cover all of the jobs that provide a direct service to passengers - whether it be cooking the food, serving the food or drinks, cleaning cabins, doing laundry, and a wide range of other duties. The purser would also fall under this category – they are in charge of all on-board accounting during each cruise.
Personal Care and Medical
Employees in these jobs are also providing direct care to passengers in the form of massages, hair care, other beauty treatments and medical care.
A day in the life of...
Read more info on a typical day on board a cruise ship for certain job roles.